Polish Culinary Cup - summary of 19th edition
The final of Polish Culinary Cup, organised during the next two days, made the competition zone the most important point on the map Polish gastronomy.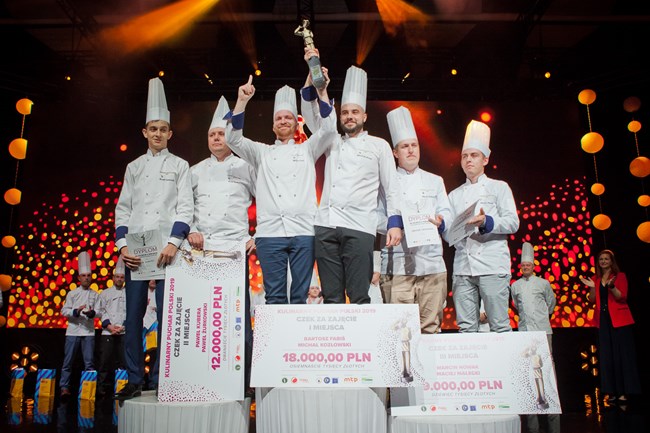 Ten cooking teams competed for a place on the podium, after being selected in the qualifying competitions that started last October across Poland. This qualification process ensures impartiality and guarantees the presence of the best professionals at the Polish Culinary Cup. They are dedicated chefs, full of culinary ideas, and perfect in their cooking skills - said Agnieszka Glamowska manager of the Polish Culinary Cup.
Each of the qualified teams prepared 3 dishes using provided products. The competitors of this year's edition will had to prepare an appetizer in which fresh pepper, Bursztyn cheese, egg and oil with the essence of butter, as well as the main course in which beef Flank Steak, bone marrow, potato and plum were mandatory ingredients. Dessert was prepared with variations of pear and hazelnut.
The works of the participants will be evaluated by an international panel of judges chaired by Jarosław Walczyk. The judges will also include Dariusz Struciński, Paweł Mieszała, Jean Bos, Bartosz Peter, Emmanuel Lorieux, Alain Hostert, sean Owens and Sebatian Pettersson.
The best notes were awarded to Bartosz Kozłowski and Michał Kozłowski, who represented Nifty no.20 Puro Hotel in Poznan. This team was followed by Paweł Kubera and Paweł Żurkowski from DeSilva Premium Hotel in Poznan (second place) and Marcin Nowak and Maciej Małecki from Puro Hotel Warsaw (third place).